Disclaimer: 2.9.10. This post, as obviously stated in the content, relays the author's experience as a first time visitor of Curves located at BGC, Philippines. It does not aim to recommend this business for franchising or for your personal fitness program.
I received an email last week inviting me (along with a number of bloggers majority of which are also my friends) to visit and experience the newly opened
Curves
, a fitness center exclusively for women. It will be held on a Saturday so I am free. Also, at this point I am very much into physical fitness that was why I immediately replied and confirmed my attendance. I was particularly interested to know if there will be something new and exciting they will offer.
I know Curves is from the U.S. but I am not familiar with the kind of service they give. I did not even know they have a branch here in our country. I was very glad I proceeded to Curves last Saturday.
I met the manager and part-owner Ms. Fe and the center's media consultant, Miss Claire Agbayani, also the young and vibrant circuit coaches. One of the participants was the former beauty queen, Joyce Ann Burton, whom I learned also blogs. I missed her blog address but will ask Claire next time. I'd like to check out her blog.
The management team walked us through the background and milestones of Curves.
* Curves started in 1992 in Texas founded by Gary and Diane Heavin, considered as innovators of the express fitness phenomenon. It gained overnight success and expansion was considered to serve its growing clientelle.
* One accolade after another came Curves' way such as the fastest growing franchise in history and the world's largest and number one fitness franchise.
* As of 2009, it has nearly 10,000 locations and 4 million members in 73 countries. (I was clearly surprised with this data.)
* Curves is considered to be a one-stop shop where women can lose weight, gain muscle strength and increase metabolism all for 30 minutes at least three times a week.
I had to smile when I read from the press kit that Curves' unofficial motto is
"no makeup, no men, no mirrors"
. It just emphasizes the straightforward training one can get in Curves.
From my assessment, the gym area is about 35 to 45 square meters. It can accommodate about twenty four persons at a given time per Ms. Fe.
The atmosphere is very zen. There is no clutter and the equipment are arranged in a circular pattern. It's quite intimate and looks very relaxing, not rigid. I checked each equipment thinking they are quite easy (but they're not). They are slim so unlike the bulky gym equipment I use.
There was body assessment for the participants during the presentation as well as the usual questions on medical history and the reason for going to the gym. After which the work out started.
The circuit coaches guided us on the proper use of each machine and the correct posture while handling them. The equipment are arranged alternately, one machine and one recovery board after another. There is a total of fourteen hydraulic exercise equipment you have to go through for two rounds or a total of 30 minutes.
It felt like we were in a group exercise because there is a cue tape which instructs us when to get off the equipment and transfer to the next. There is even an instruction to count your heartbeat. It's really fun! It's very fast phased and very engaging.
I have been a gym member for more than a year now and there are a number of differences I can state. What I like about Curves is the privacy, the intimate atmosphere yet laid back ambiance it lets you experience. It's like you're just home in your own gym.
Relating my own experience, the recovery board where one stands on and do some aerobic steps or dance steps, recharged me. It gave me a few seconds to breathe before going to the next equipment.
This kind of training disciplines you to stick to the required work out because you have to finish the whole circuit. I find it very interactive. My mind did not wander not just because a coach was guiding me but because I was focused on what I was doing. I could have easily stopped had it been the usual gym training. My body seemed to agree with this type of conditioning.
What I find a good offer from Curves is that there is no additional fee for the circuit coach and the weight management program. They are there to guide each participant and ensure they are meeting their required program and walk them through the achievement of their goals.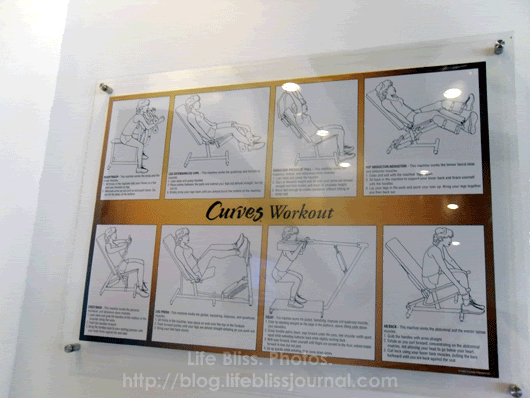 One of the poster guides inside the gym which serve as reference for participants.

Lateral lift, Squat, Chest/Back, Hip Abductor/Adductor

Doesn't the place look relaxing? The squares are what they call recovery boards.

Recovery stepper, Glute. The stretching equipment near the door is my favorite. I love to stretch after a work out.
Curves is located at 2/F Serendra, McKinley Parkway, Bonifacio Global City, Taguig, #828-02-08. Its operating hours are from 7 AM tp 10 AM, 11:30 AM to 1:30 PM, 3 PM to 7 PM. The closed hours are used for club maintenance.
***Check out more weekend sharing at

Pixel Bug Weekend

.